Screening for interpersonal violence and abuse (IPV/A) is an essential step for making family mediation safer and more fair for all parties. Unfortunately, in "Joint Session or Caucus? Factors Related to How the Initial Mediation Session Begins," Roselle Wissler and Art Hinshaw found that only 11% of surveyed family mediators screened for IPV, or had access to the screening results, prior to mediation (see footnote 85). A new tool, the MASIC-S, might change that. The MASIC-S is available free at ODR.com for all mediators. It is an abbreviated version of the Mediator's Assessment of Safety Issues and Concerns (MASIC), which was developed in 2010 and is widely referenced for use in family mediation.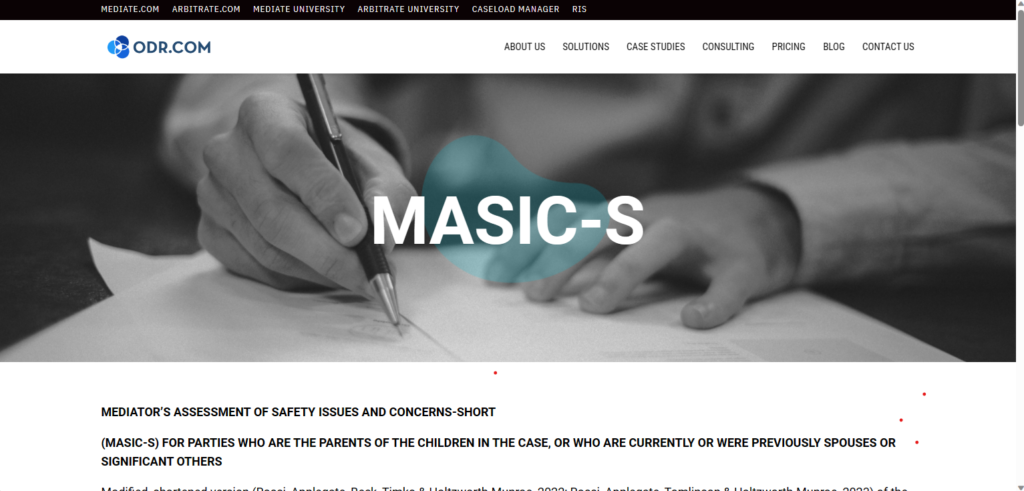 RSI is particularly interested in this new tool in light of our 2018 project, supported by the Family and Interpersonal Resilience and Safety Transformation Fund, that studied IPV screening tools, surveyed experts in IPV dynamics (as well as lawyers, judges and mediators) on best and actual practices, and convened those experts to explore how to close that gap. The research led to an extensive report outlining RSI's proposed solution and the steps to actualize it.
The questions in the MASIC-S focus on abuse in past or current relationships. Many of the questions have been validated, meaning that they accurately identify severe and concerning degrees of abuse, which the screening tool aims to assess. Mediators can screen parties during intake by privately administering the MASIC-S questionnaire in person or through videoconferencing. After each party has completed the questionnaire, the mediator will be prompted to consider specific questions regarding whether or not mediation is appropriate for the case, and if so, what accommodations might be necessary for a safe and voluntary process.
The Comprehensive Guidance provides detailed instructions for administering the MASIC-S, as well as directions to follow based on a party's score. For example, if a party receives a score of 3 or higher, the guide recommends refraining from mediating jointly in-person; however, online mediation may still be a reasonable option. The Comprehensive Guidance even provides scripts to follow, such as what a mediator can say to safely terminate mediation without blaming either party or endangering a survivor.
The MASIC-S is also designed to protect confidentiality of the parties. For example, mediators do not record any identifying information that could connect responses to a particular person, and the results are not shared with the other party. Additionally, the responses are not stored online; mediators can instead download a PDF of the responses if they want a record of them. Using this abbreviated screening tool at intake can help to ensure mediation is appropriate for the parties and necessary accommodations are made for a safe and just process.